U.S. Patent No. 5,622,354

MADE IN OHIO

Pittsburgh Adjustable Brace Company

Phone: 1-330-224-4795

ScroogeclampTM

Brand Wall JackTm

Works Like an Extra Pair of Hands!TM

Push or Pull 2,000 lbs. TM
IF YOU ARE PAYING A CREW TO STAND AROUND AND DO NOTHING WHEN SOMETHING GOES WRONG AND THE JOB STOPS, This tool will pay for itself
This is an entirely new tool, rather than an improvement on something already available.
It consists of a drawbar, which is left-hand threaded on one half, and right-hand threaded on the other half. A handle runs through the middle. Each end is threaded into a bracket with attachment holes. Turning the handle e.g. clockwise makes the brackets move apart while turning the handle e.g. counter clockwise makes them move together.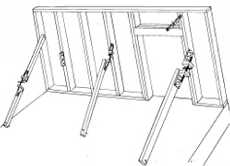 This tool has hundreds of uses. The most obvious is to plumb stud walls and posts. If it is run diagonally on a stud wall it will square up the wall.
If it is fastened between two studs it will push them apart or pull them together.
The tool produces 2,000 lbs. of push or pull with an 80 lb. force on the handle. The handle bends at 2,600 lbs. providing a built-in safety factor which prevents it from being overloaded by, say, someone putting a piece of pipe over the handle.
If you used 10 of them, you could produce 20,000 lbs. of push or pull distributed as you wished. If you had an old shed that was racked out of shape and you put 10 or 20 tools throughout it, and tightened them every night, with the expansion and contraction from temperature changes and vibration from wind, over a period of a few months you could move the building back into shape. Much cheaper than building a new building!!!
Concrete contractors can use them to adjust concrete forms to exactly where they want them.
If a house has been framed and it starts raining before the sides and roof are on and the lumber gets wet and warps and twists, they can be used to push and pull the lumber back into shape.
Whenever a new house is built, between the time the foundation is dug and the new owner moves in, there will be multiple uses (needs actually) for this tool in:
adjusting concrete forms
plumbing walls and posts
squaring things up
straightening warped lumber
positioning things precisely
etc., etc., etc.
So someday, I expect every professional builder or carpenter will own at least one (or two, or four) pair(s), and eventually it will be in the workshop of every home handyman and do-it-yourselfer in America!
Also, with all the buildings, stationary and moving equipment, fences, gates, etc., etc., on the modern FARM, every farmer will need at least one pair.
This tool works like an extra pair of hands, and EVERYONE NEEDS AN EXTRA PAIR OF HANDS!!!